It was a cold, wintry day. I had just gotten back to my mostly empty apartment from a long day at work. The usual dread was weighing me down. I sat on the floor and stared blankly at the opposite side of the room contemplating how I'll spend the rest of the evening. Life's been a monotonous regime of work, sleep and a dose of TV to keep myself sane. The only time I'd ever go outside was to do grocery shopping. I was losing touch with myself and reality. I'd stopped socializing with friends and became distant with family. I was watching myself become a recluse.
What had gotten me here was a severe loss of a loved one, grief, denial and the realization that my life has been at a complete standstill for years. Twenty-seven years old, and I felt like an old man without wisdom. There was no purpose, no drive and no sense of belonging. I felt adrift.
This particular evening was no different than any before. I'd muster up quick dinner and start looking for another feel-good movie to watch and temporarily shift my mind to something positive. While browsing Netflix catalog I came across The Way.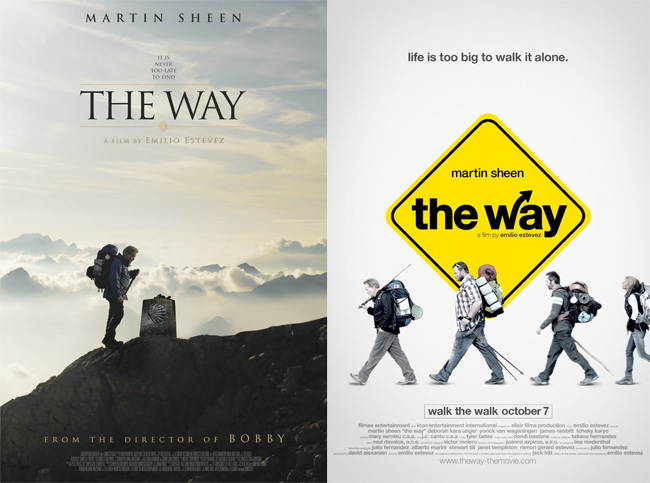 This movie is about a father (Martin Sheen) who travels to France to retrieve the body of his estranged son who died in the Pyrenees while traveling El Camino de Santiago also known as The Way of Saint James. Stricken with grief and burdened with guilt, he decides to complete the long-distance hike himself to reconcile with the loss and honor his son's desire to finish the journey.
El Camino de Santiago is a 500-mile trail which starts in France, snakes its way through the French Pyrenees across Northern Spain and ends at the Cathedral of Santiago de Compostela.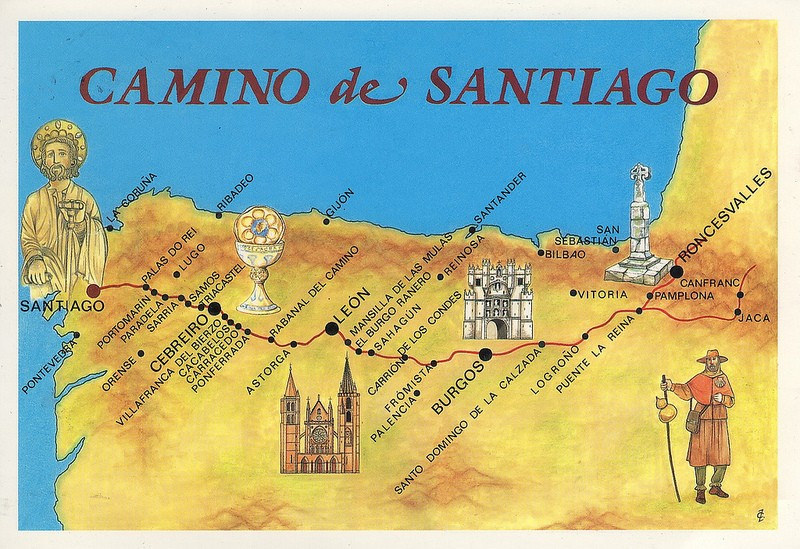 Legend holds that St. James's remains were carried by boat from Jerusalem to northern Spain, where he was buried on what is now the city of Santiago de Compostela. (The name Santiago is the local Galician evolution of Vulgar Latin Sanctu Iacobu, "Saint James".) - Wikipedia
Having been around for over a thousand years, it was once the most important Christian pilgrimage. However, popularity has declined and the trail was more-or-less abandoned since the 16th century until 1950s when it was revived and quickly became one of the most inspiring spiritual journeys.
Little did I know that this movie and the magnificent history behind this once long-forgotten path will forever change my life.
There was not a molecule, not a speck of doubt in the grain of my mind that I needed to experience The Way. It felt like a comforting sign of grace. That night I went to sleep with a greater sense of clarity and feeling excited about the new direction for my life I would never imagine taking. So, I set out planning the next day.
Feelings and thoughts flowed through me like a mighty rushing river. Doubts came flooding and trying to pull me away. My mind was racing in all directions as my body was reminding me that I am not in any kind of shape to take the torture of a grueling 500-mile journey. Heck, I haven't even walked a mile in the last decade! I was overweight by about 40 pounds! What about my apartment? I'd have to sell everything. What about my job!? I love my job! The whole idea was clearly pushing and pulling the boundaries of my comfort zone. I had to take the plunge or forget about it and continue living in my misery… I knew exactly what would sort this out. A plane ticket to Bayonne, France in 6 months time. That's it. I'm doing it.
In the next few months I was absorbing as much information as I could about The Way. I read books, blogs, forums and watched YouTube videos. While this was preparing me mentally, I'd still shudder at the thought of my physical preparation and hoped that things would sort themselves out when I get there. Two weeks before my departure I quit my job, emptied out my apartment and moved back to my parents' house.
Learning Spanish turned out to be a total disaster. I concluded that "Una botella de cerveza, por favor!" and "Donde esta el baño?" should be enough to get by. Ironically, I was correct, however, I did learn a few more phrases during my time in Spain. Realizing that I'd have to spend a few days in France I also tried to pick up a little bit of French, which rolled off my tongue like a dozen simultaneous train wrecks. On the bright side, It made me feel half-decent about my conversational fluency in Spanish.
Backpack - check. Hiking shoes - umm… these shoes I wear to work seem comfortable… check. 7-pairs-of-every-imaginable-piece-of-clothing - check. 40 pounds on my back - check! Two days later, I find myself thinking "What the hell have I done?!" at a bus station in Bayonne, a small town in southern France. From here it's a short bus-ride to Saint Jean Pied du Port - the gateway to El Camino de Santiago.
Leaving my heavy pack on a bench, I decided to charm the saleswoman at the ticketing desk with my eloquent French. Basically, after mumbling something incomprehensible to her face, she replied with the price of the ticket in a well-spoken English. Overjoyed at the fact that I only had one more day of tongue-twisting torture in France, I boarded the bus packed with eager and enthusiastic pilgrims of all ages from all around the world.
There was a British guy with a disgustingly-tiny rucksack who planned to run the entire trail in 2 weeks. He was clearly insane. An elderly woman in her 70s who bravely left her family in Germany to set out on a path to spiritual awakening. A young couple from Ireland who seemed as clueless as I am about the entire ordeal awaiting them.
A little over an hour later the bus made its final stop. With the back-breaking weight of the pack cutting into my shoulders, and an equally uncomfortable forward lean to counterbalance it, I trudged along the cobblestone-covered streets of this lovely old town.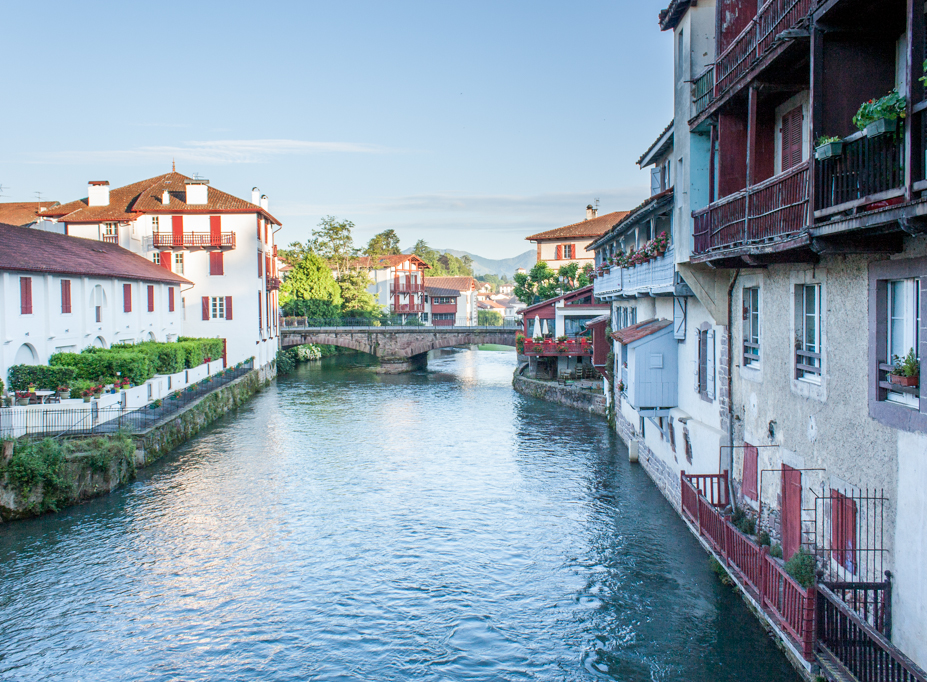 I followed the crowd to the Pilgrim Center, where a nice elderly Frenchman handed me the pilgrim's passport - as I soon discover a very important document on this trail. With the passport in hand I was ready to tackle my first obstacle - trying to hand-gesture an old French couple that I booked a room at their small family-owned hotel. "Ah, Amerhican? Amerhican? Oui, Oui!"
My journey has finally begun.
The first day couldn't have been any better. The morning was a little foggy, but by the time I finished a cup of coffee and gobbled up the traditional French croissant, the fog gave way to beautiful radiating sunlight. I thanked my French hosts and hurried to the trailhead.
The road weaved through the town and led out to the countryside with lush green pastures and rolling foothills of the French Pyrenees. Not even an hour into the first day, the trail started climbing up and the bloody incline made my heart feel like it was about to rip out of my chest and go on a hike of its own. I couldn't help but wonder if the rest of the way was going to be as difficult as the first day. My pace was very slow and labored as I tried desperately to reach some kind of leveled ground. The only thing that peeled my mind off this beating were the incredible sights around me, which seemed to have only been getting better as I gained elevation.
As I looked around, I found a downed tree on the side of the road with a long straight lonely branch poking out of its trunk. It was like a god-send hiking pole. Perfect height and girth. It saved my ass so many times during the trip I ended up naming it "Wilson." A month later, I damn near cried when I left it propped up next to a wall on the last day. It was like leaving an old friend. I digress.
As I passed Orisson, I finally got a quick taste of albergues on the Camino. An albergue is a hostel where you can get a bunk bed and tasty home-cooked meal for anywhere between 5 to 10 euros. Orisson was an iconic place mainly because it was in the movie i mentioned earlier. It is also the first place where I saw groups of pilgrims either stopping for the day or taking a break from the climb. I stopped to refill my water bottle and decided to roll on forward even though my body was already screaming at me.
Luckily, another mile of the climb opened up to very gradual hill tops. The temperature took quite a dip and I had to throw on a jacket. The French Pyrenees crossing is arguably one of the most dangerous stages of the entire trek. Numerous crosses of the deceased seen along the way is a grim reminder that this place can be as deadly as it is beautiful. While many died from natural causes, mostly heart attacks and strokes, some did from exposure to elements. Weather changes on a whim in this exposed region. I met someone a few days later who made the crossing one day before me and told me that things took a scary turn as the weather changed to snow and fog and he lost the sight of the trail. Fortunately, he ran into a shepherd dog and then the shepherd himself who lead him back to the trail.
As the trail crossed into Spain and started descending into the forest below I met Angela, a lab technician from Italy who had one week to complete as much of the trail as she could. This seemed to be the trend with a lot of European folks I'd ran into. They'd walk the Camino in small sections for years! Walking together with Angela was a neat experience. We talked about our cultures, beliefs, hobbies and just about anything else that fascinates two people from different countries. I have to confess - I was petrified at the thought of not being able to find a partner to walk with. This turned out to be the least of my worries.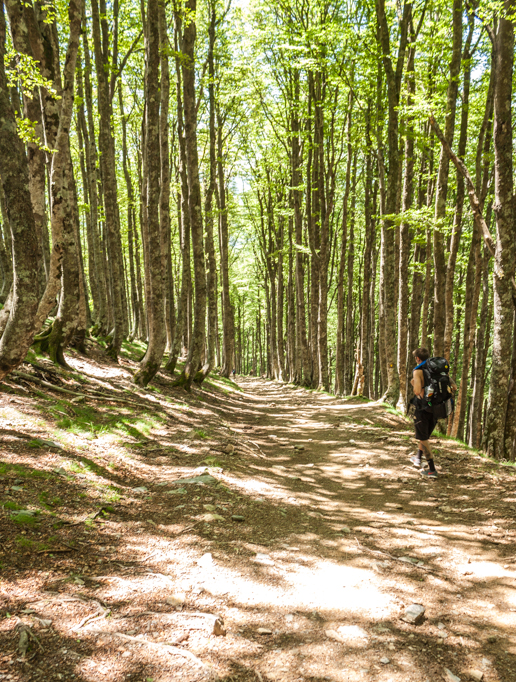 As we entered the forest, parts of the trail quickly became impassable mud wallows. I used my handy-dandy stick I'd picked up earlier to hop between islands of stomped dirt and after about an hour of pole vaulting we finally arrived at Roncesvalles to mark the end of the first 28 kilometers and 8 hours of walking.
The main hostel in this small village was a beautiful 3 or 4 story building which reminded of a Catholic monastery. I got in a line eagerly waiting to get a place to sleep while remaining in a state of disbelief that this was all real. "5 euros please!" said the clerk. Never has the phrase "Take my money please!" been more appropriate. I handed in 5 euros and my pilgrim's passport which received its first official albergue stamp.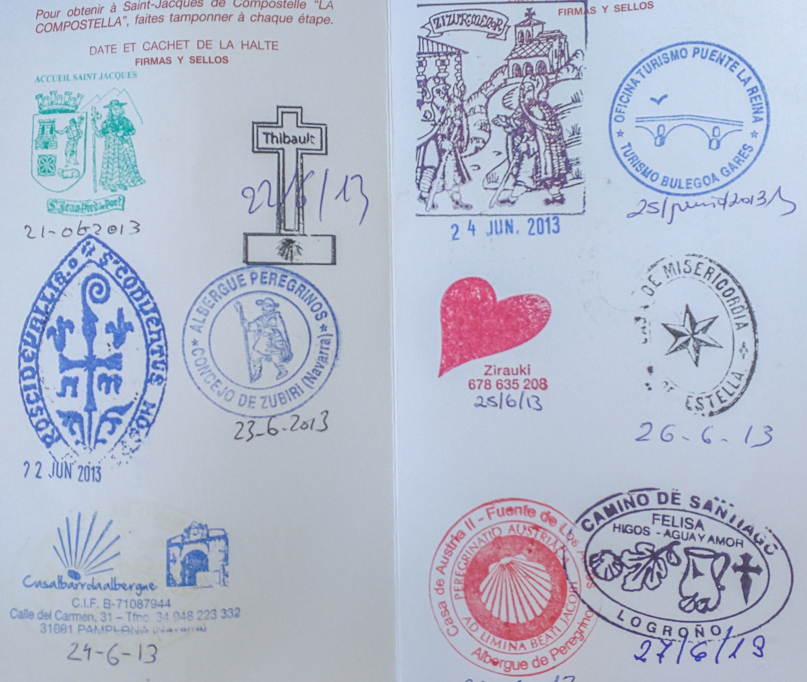 The albergue at Roncesvalles housed about 100 people per floor separated into rooms of 4. It was the largest one of all on the Camino. I shared a room with 2 ladies from Seattle, a mom and her daughter, who'd come for their second take on the trail. Later that evening, I had a great group dinner with Michael, a devout Catholic from NYC, and a Spanish couple who started their Camino from Roncesvalles. The initial awkwardness of the apparent language barrier was quickly dissolved by the unifying spirit of Oneness. We goofed around and laughed at each other's jokes, bad Spanish or English pronunciations just like old friends who had gone a lifetime without a reunion.
I briefly looked around at other tables and what I saw was the mind-bending magic of The Way - the ability to transcend different molds of people, cultures, language barriers, social statuses and create genuine, lasting and at times fleeting but memorable human connections.
I have never seen Michael, Angela or the two ladies I shared a bunk room with again, but what we'd talked about and the things we shared will forever remain with me.
Every day on the Camino played out in a similar fashion yet every single day was a different adventure. Most times I'd walk alone marinating, ruminating in my thoughts, facing my fears, making sense of the senseless and taking in the sights.
Sometimes I'd meet someone along the way and walk with that person for a few days. The ability to share your deepest fears and secrets with someone you'll likely never see again and get a genuine, heartfelt response is the healing power of the Camino. You shed your weight here and take on the courage and the inspiration of others. You learn from the sacred stories and fill the voids in your heart and mind with innate goodness of those you walk with.
Anthony is a martial arts instructor from Turin who waited nearly two decades to send his kids off to college, so he could embark on his journey on the Camino. He spoke no English and I spoke no Spanish yet we managed to walk together for several days. He'd always stop to smell rose shrubs growing in someone's front yard and then wave me in to join him.
Being a faster walker than I was he'd walk in front of me then make a sudden stop and spread his arms to gesture how beautiful everything was around us. Every once in a while he'd crack me up by slowing down and walking behind me to pass a good old Italian fart. After our brief walk together, I found myself stopping often to take in the views, smell the roses and enjoy the present.
There was the couple from Germany who were on the brink of divorce, but decided to take a step back and reevaluate the situation by walking the Camino… separately. I don't know how their story ended, but the sheer determination to not give up on their love for each other made me believe that true love does, indeed, bear and endure all things and I can only hope that one day I get to experience the same kind of love.
There was also a kid, probably in his very early twenties, who'd lost his money and could not afford food or a place to stay. He politely refused any donations from fellow pilgrims and in desperation proceeded to walk on. And at this very moment, the moment that still chokes me up every time I replay it in my mind, a sweet old man who could have easily been old enough to be his grandfather, silently approached the young man and gently grasped his hand in his. As he let go, leaving money in his hand, he looked up, smiled and patted the kid on the cheek before turning around and walking away. There was not a word said. The most powerful moments in life don't need words.
The Camino didn't disappoint with a seemingly supernatural experience. A week into the journey I had gotten somewhat accustomed to the terrain and the long daily hikes. However, my feet were having a terrible time. The cushioning in the shoes has disintegrated and in addition to painful blisters on both feet, I could now feel every little rock I stepped on. It was really grinding at my feet to the point where the pain almost made me weep with every step.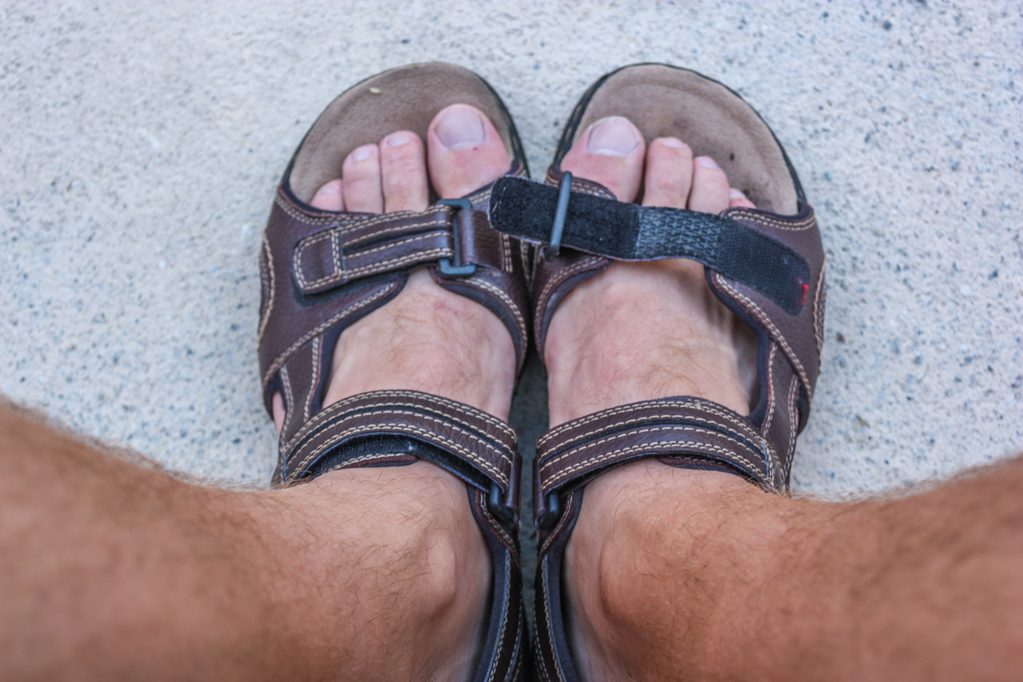 One morning the pain finally took its toll. At this point, walking felt like my feet were in a meat grinder. I stared down at the gravel road and hoped for the best. After a few hours of limping like a penguin, I found myself on a hill with a chain-linked fence along a side. It was decorated with crosses made of twigs and sticks by passing pilgrims.
Perhaps each cross signified someone's struggle, burden or loss? Maybe a sign of hope left behind for others to see and let them know that they're on the right path? It was the sight of truthfulness and sincerity in people that I lacked in my normal life. I don't know what came over me. I just stopped, knelled down while holding the walking stick in front of me and broke down crying.
When I picked up myself up and reached the top of the hill I was able to examine my deteriorating feet. And then the unexpected happened. I put on my shoes and, I kid you not, the pain went away and never returned again. I vowed to buy hiking shoes the first chance I could, but ended up finishing the entire trek in the same shoes.
Later, when I came back home and my feet finally rested, I realized that I lost quite a bit of sensation in all of my toes and parts of my soles. I must have pinched nerve endings in both of my feet from the swelling in the muscles. Everything eventually restored back to normal, but it always made me wonder what happened there.
I carefully followed yellow arrows marking the trail as it went on and on taking me through expansive valleys and forests…
And quite ghost towns with just one or two remaining residents where money spent by pilgrims on food and a bed for the night provided the only form of survival.
The miles trickled down until I could count them on one hand. The last 100 kilometers were very stressful because most Spaniards only walk this last stretch to get their compostelas - the certificate of completion. Finding an available bunk was almost impossible with this influx of tourists. Nevertheless, I had finally made it to Santiago de Compostela - a bustling ancient town overrun by tourists and pilgrims.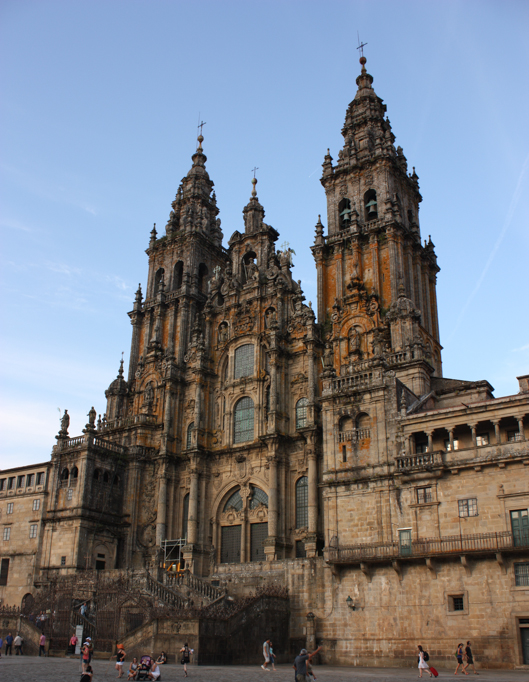 Although the trail passed through cities like Astorga, Pamplona, Leon and Bergos, I usually tried to stay away from the hectic movement of urban activity. This time I decided to treat myself to a nice hotel and immerse in the Spanish culture for a change. I was not disappointed and this city marked an amazing milestone in my life.
While staying in Santiago de Compostela, I learned from fellow pilgrims that the best way to finish the journey is to continue to Finisterre, a small fishing town on the coast of Spain. The name of the town translates to "end of earth". Early pilgrims would witness the sun dip into the ocean here as they burned their clothes to symbolize the cleansing of body and soul and the start of new life.
The next day I was back on the trail heading to Atlantic coast. In a drastic change of terrain and climate, the scorching sun of the Spanish summer hid behind morning fog, clouds and rainforest. The spectacular views of rivers, waterfalls and green pastures captivated my eyes. As my mind cleansed itself of rubbish on my long journey, it was here where I could finally think nothing, submerge myself in the present and fall in love with nature.
On the second day of trek to the coast I met Monika. She was a barista from England who started the Camino a few days ahead of me. We spent our first hours together off trail looking for an ancient place of worship she'd found in the guide book, marked by huge slabs of rock resembling a shelter. From then on we walked together.
Meeting Monika was a very revealing and special episode. Throughout my life I've met a handful of people whose mere presence or image gave off a powerful positive aura. The type of people you can look at and see pure genuine goodness in them knowing nothing about them. Monika was such a person, and I could not have felt more blessed and grateful to walk by her side. We shared our struggles, hopes and dreams. Talked about failed relationships that still lingered in our minds and the times we were happy or hurt. We talked about what this journey taught us and how it shaped our minds.
As we walked together something has occurred to me. It seemed so apparent, yet gone by without me noticing for weeks. Something that I've been trying to achieve my entire life but failed time and time again. Here, I was the person that nobody knew back home. The person that only I knew existed in the times of my solitude. I was just being myself and I loved sharing my sincere being with someone else.
The smell of the sea water grew stronger and the landscape rapidly transformed to coniferous forests. We were approaching the coast. I was torn between the feeling of imminent completion and child-like excitement when guessing which hill in front of us would reveal glistering blue water beckoning us from afar.
That evening we sat atop the rugged cliffs of Finistere and watched the sun dive into the ocean. We didn't burn our clothes, but instead shared a bottle of local wine while taking in the views at the edge of the ancient world. Exploring the town, meeting other pilgrims whom we lost along the way, eating cheap sea food, hopping beaches and collecting seashells was the way of life on the coast.
The day before the trip back to Santiago de Compostela we stumbled on a hidden beach. A good hour or two away from civilization a small forest of pines harbored some of the most pristine sand and waves crashing on the shoreline. We stood out in the warm sea water playing in the waves and being completely enchanted by the uniqueness and simplicity of the moment. I always wanted to find a secret spot in the world that I could come back to some day. I think I found it that day.

It's funny when I think about it now, but I remember meeting a man who was on his 7th Camino. I couldn't understand why anyone would come back and do this over and over again. I couldn't really grasp what was so transformative about it. I insisted that it was probably nothing short of a good adventure. At the end of the day I didn't think it changed me. I was just dead-tired and wanted the comfort of a home.
In fact, nothing really made sense to me until I came back home and my thoughts finally had the chance to settle. I'd realized that I did change in a very subtle but radical way. I learned to embrace the sense of drift because as I uncertain as that can be, it is also remarkably freeing. I can be here or there or anywhere and it's absolutely fine. I came to realization that a person is truly happy when he or she opens the door to wanderlust and the unknown. It makes your mind tick and keeps you exploring. As you see your path unravel in front of you one step at a time, you gain confidence in knowing that if you could get through today there is nothing stopping you tomorrow. Life is an adventure and it's remarkably sad living it as a means to a end, not an end in itself.
It's been 3 years since the journey ran its course. While most of the lessons remain with me to this day, there are things that I wish I would be able to retain throughout my life. I've felt like I lost touch with myself again. Perhaps it's normal? After all, we live in a world that's constantly trying to make us something we're not. Perhaps this is the pull of The Way? Calling me back again to restore what I'd spend so much effort building. A healing therapy in a way. I don't know, but I think I understand now why that man kept going back.
If you made it this far - I applaud you! I know some of this sounds like a loadful, but I ultimately think it's the best journey for your mind. When I got back, I brought a scallop shell with me that I'd collected on a beach. It's said that the lines on the shell represent different routes leading to Santiago de Compostela. I kept mine so that one day I could give it to someone I'd want to walk The Way. Only a few months ago I'd finally given it away to someone I deeply cared for. I don't know if it made any sense to this person. Perhaps it seemed like a goofy gift idea that was immediately discarded to trash. Yet it was the most important thing I've ever given to someone. Today, I want to give it to you. Spread your sails, leave your safe harbor and give this journey a shot.
Buen camino!